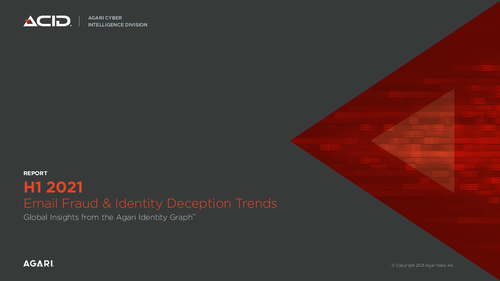 The dramatic changes of 2020 underscore the impact of phishing attacks such as Business Email Compromise (BEC) on businesses and consumers world-wide.
The Agari Cyber Intelligence Division analyzed trillions of emails and nearly 500 million Internet domains to uncover the scope and impact of this email fraud… and the trends that benchmark enterprise security teams' ability to respond to email threats.
Featuring global insights from the Agari Identity Graph™, the H1 2021 edition of the "Email Fraud & Identity Deception Trends" report delivers data and key findings, including:
How increasing dollar amounts driven by Vendor Email Comprise (VEC) attacks continued the escalation of email fraud in 2020… and how cyber criminals increasingly look for liquid assets to convert into cryptocurrencies.
Why a deluge of phishing attacks has increased the urgency for security teams to respond effectively… even though nearly two-thirds of employee reports are false positives that exacerbate the SOC's resource challenges.
Why a steady increase in DMARC and BIMI adoption is good news for brands and consumers… and which industry and geographic sectors continue to lag in adopting these key security controls.
Make sure you are armed with this essential data and intelligence. Download the report today.