The Rise of Mobile P2P
Fifth Third is Latest to Join Cloud P2P Bandwagon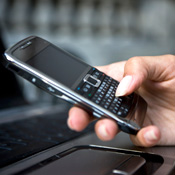 Mobile remittances are catching on, and Popmoney is emerging as a leader in the space.

Cincinnati-based Fifth Third Bancorp. ($112 billion in assets) has just announced plans to launch CashEdge Inc.'s Popmoney remittance service. The peer-to-peer payment platform, which is available through mobile and online banking channels, offers banks and credit unions a way to compete in a market that's seeing increased competition from non-traditional sources.

For Fifth Third, the demand for more mobile services was the catalyst for the bank's Popmoney launch, scheduled for mid-2011. "CashEdge's Popmoney solution allows us to offer our customers the latest in online money movement functionality," says Larry McClanahan, vice president and director of alternative delivery channels for Fifth Third.

In June 2010, San Francisco-based Bank of the West ($61 billion in assets) launched Popmoney for online customers. "The reception has been overwhelming," says Jim Cole, vice president of communications for Bank of the West. "About 43 percent of our overall transfers have been Popmoney transfers, and the transfer amounts have been much greater than what we expected."

Mobile was not a part of Bank of the West's launch, but Cole says the bank is reviewing mobile options.
Growing Market
Neil Platt, senior vice president and general manger of CashEdge, says demand for P2P is increasing. Fifth Third joins more than 170 banking institutions, including five the country's top 20 banks, now providing Popmoney via the online and mobile channels. "This is not standard billpay solution, like paying your utility bill," Platt says. "Chances are, your utility already has a relationship set up for billpay with your bank. This is a solution you would use to pay your gardener or a friend -- someone that does not have a proprietary lockbox account."

The attraction of Popmoney for banks, Platt says, is the security that's built into the platform. It's all in the cloud -- software-as-a-service -- linking to a bank's online banking site, but not storing or authenticating any bank account details of a bank's customers. Platt says more banking institutions are warming to cloud or SaaS solutions, because they see value in the security. "It's a service completely managed by CashEdge," he says. "When a user signs into the bank account, online or from a mobile device, they get handed over to CashEdge."

The sender who initiates the remittance is authenticated by the institution as a customer or member. Then, the Popmoney system scores the transaction in real-time, based on factors such as remittance amount, time of day, transaction history and the IP address from where the transaction is initiated.

"Some of the mitigating things we might do before turning down a transaction include a second layer of authentication," Platt says. "So, if there is someone that you've never sent money to before, and it's a large amount, we might require the sender to go through a second layer of authentication through a text message to a cell phone that requires the user to enter an authentication code. So, if someone stole my credentials, they would also have to have my cell phone to complete that transaction."

For Fifth Third, which has used CashEdge for other banking services in the past, that layered security approach has been attractive. And McClanahan says the bank and CashEdge put the Popmoney service through several rounds of security testing before making it live. CashEdge is "a leader in this space," McClanahan says. "We trust that our customers' information is safe."

For more on Fifth Third's P2P plans, listen to our exclusive interview with Larry McClanahan.