DDoS Strikes Take EU Banks Offline
Experts Say Outages Not Linked to U.S. Attacks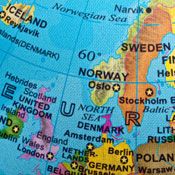 Distributed-denial-of-service attacks against banking institutions are becoming a global concern, and experts say many organizations outside the U.S. financial-services sector are ill-equipped to defend themselves.
See Also: 5 Tips for Modernizing a Security Operations Center
DDoS strikes have taken down online-banking sites in Northern Europe in recent days and weeks, several security experts say. Scott Hammack, CEO of DDoS-mitigation provider Prolexic, says institutions in the Netherlands appear to be among the most recently targeted, but banking institutions throughout Europe have been hit within the last several months. Energy companies also have fallen victim, he says.
But experts say the attacks being waged against European banks are not linked to Izz ad-Din al-Qassam Cyber Fighters, the hacktivist group that since September has been striking leading U.S. banks. And some experts believe fraud is the motive behind the attacks waged in Europe.
Northern European Targets
Hammack would not name which European organizations had been targeted. Carl Herberger of online-security firm Radware, which specializes in DDoS mitigation, says six Northern European banking institutions have been targeted in the last two to three weeks, and attacks continue.
"From our perspective, based on the traffic we see, it's only been about a half-dozen hit, and it's been mostly banks and e-commerce sites," he says. "They're all located in continental Northern Europe - the EU epicenter or power areas in the EU."
Herberger also would not provide names of the targeted banks. But ING confirms in a statement that was available on its website April 19 that its online- and mobile-banking platforms had earlier been inaccessible because of a DDoS attack.
In a separate statement issued April 5 by the Dutch Banking Association, ING's outages also were mentioned.
"All this was the result of a very wide range of Internet traffic on the websites of banks, called a DDoS attack, where both Dutch and foreign banks [were] affected by the encounter," the banking association states.
ENISA, the European Network and Information Security Agency, on March 13 issued a warning to European business about the increasing risk of cyber-attacks, but spokesman Ulf Bergstrom says few banks and Internet service providers have adequately heeded the warning.
ENISA has longstanding standards that address DDoS risks, Bergstrom notes. But most organizations have failed to make online protections a priority, he contends.
"The ISPs are either unaware of these standards that have existed for 13 years, or they do not deem they can muster the costs to apply them," he says. "Banks also do not always go for the best solutions, but cheaper security solutions. It depends if it's easier to pay off one person who is hit by cyberfraud."
A Different Kind of Attack
Herberger and others say the attacks in Europe are different than the DDoS campaigns waged against U.S. banks. "The attacks are not of the same signatures as Operation Ababil," he notes, referring to the campaigns being waged by Izz ad-Din al-Qassam Cyber Fighters against U.S. banking institutions.
"The attacks don't match the current attack profiles we see from Operation Ababil," he adds. "They are less sophisticated, less pervasive and less aggressive. Nevertheless, for institutions that have endured attacks of this nature, they have been trying."
Other experts also say the botnet used by Izz ad-Din al-Qassam Cyber Fighters has not been linked to attacks in Europe. And the motives for the attacks in Europe could be more about fraud than hacktivism, they add.
John Walker, chairman of ISACA's Security Advisory Group in London who in September said European banks were not prepared to defend themselves against DDoS, says the attacks being waged now likely have a monetary motivation. "I know in two cases extortion was involved," he says.
Herberger says the attack patterns in Europe are still being analyzed at Radware, but that it does seem the attacks in Europe are being waged for more than annoyance. "The attacks seem to be directed against integrity-based interests," he says. "There's no evidence yet that there has been a data loss; but once you violate integrity systems, you can get anything you want."
But the greater worry, Herberger says, is the apathy among European banks when it comes to addressing DDoS risks. "Around the world, everyone has viewed this as an 'Ugly American' problem," he says. "But these attacks are hitting more than banks, and it's been more than one country."
Additional Summit Insight:
Hear from more industry influencers, earn CPE credits, and network with leaders of technology at our global events. Learn more at our Fraud & Breach Prevention Events site.